BAZAAR EXHIBITION INFORMATION
PLEASE READ ALL BAZAAR EXHIBITION INFORMATION
​CAREFULLY BEFORE MAKING YOUR RESERVATION 
Entry passes can be picked up at the Bazaar Management booth near the rear entrance from the docking station on the right side facing the bazaar.

Each vendor will receive three entry admission tickets for each booth they booked. Additional passes are available for 

$50 per pass

; for more information, please email 

bazaar@conve.icna.org

.
Your booth package includes the following:
10 x 10 booth size.
8′ High Backwall Drape with 3′ High Sidewall Drape.
7″ x 44″ Cardstock Identification Sign.
6' x 30" Skirted Table – Blue.
2 Side Chairs.
1 Wastebasket.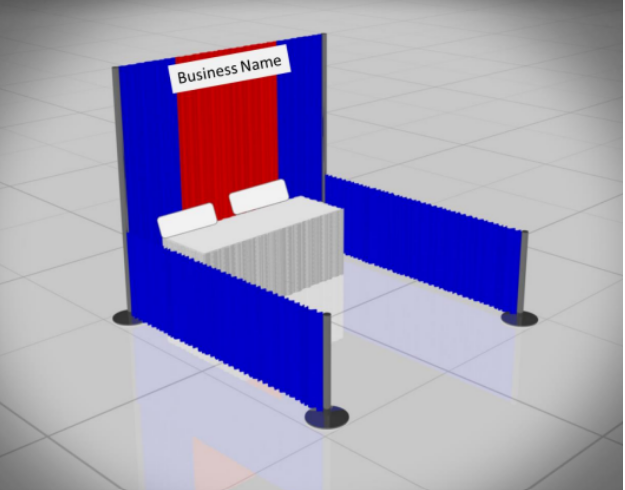 Note that backdrop banners or any sign/screen height should not exceed 10 feet.
If you require additional items (extra table, chair, carpet, etc.) in your booth, please contact Shepard Exposition Services directly. Their service manual is also attached to this email.
Show Drape Color(s): Blue, Gold
Aisle Carpet Color: Eclipse
GENERAL EXHIBITOR MOVE-IN
Thursday, May 25, 2023, • 8:00 AM to 3:00 PM
Friday, May 26, 2023, • 8:00 AM to 5:00 PM
NO MOVE-IN ALLOWED ON Saturday, May 27, 2023
EXHIBITOR MOVE OUT
Monday, May 29, 2023, • 4:00 PM to 8:00 PM
NO MOVE-OUT ALLOWED BEFORE MONDAY, MAY 31 AT 4:00 PM
EXHIBITOR MOVE OUT
Monday, May 29, 2023, • 4:00 PM to 8:00 PM
NO MOVE-OUT ALLOWED BEFORE MONDAY, MAY 31 AT 4:00 PM
Each vendor will receive three convention passes per booth. These passes will permit vendors to attend any session at the convention. 
Please send your request to the ICNA bazaar at bazaar@conv.icna.org team for additional passes for your immediate family.
A fee of $50 per person will be charged for additional badge. Vendor can request a maximum of five (5) additional badges.
 
Unloading / Check-in Details
Please bring your booth reservation confirmation with you to the convention. You will not be allowed to enter the loading dock area without this document and receipt of your booth bookings. We have made arrangements with our decorator to provide labor to help unload your merchandise. Move your vehicles from the loading dock after unloading to make room for other vendors. Do not obstruct the bazaar aisles at any time.
Loading Dock Location & Directions
The loading dock location and directions are as follows: 
Charles Street Loading Dock. Access to the Baltimore Convention Center Loading Dock Area (to move in and move out of events) is located off on Charles Street. If you are coming from Pratt Street, the entrance to the loading dock area will be on the right (located between the Convention Center and Sheraton Hotel). You will see the security gate.
Electrical Services and Internet Services
For electrical and telecommunications (internet) services, please refer to the attached order forms for Edlen Electrical Exhibition Services and M.C. Dean, respectively. Please order as soon as possible to take advantage of advance order prices.
Internet Service
For services and order inquires please contact Nathaniel Morgan at (410) 649-7097 or via email nathaniel.morgan@mcdean.com